Written by Raymond Chan
Photography by Raymond Chan
This was one of two sets of aftermarket 3-piece Porsche Cups (Porsche never made these in modular form) I had waiting for a refurb.  The first set I had were 17″ and I ran them on the 8L for a while:
Ended up selling that set as is to another 8L owner, and I had this 18″ set left over, which had not many revealing stamps as to who made the wheel and their specs.  It only had a "Made in Japan" stamp, PCD and date of manufacture (dating back to 1995).  No specs regarding the sizing and offset; a quick measure revealed the fronts to be 18×8 and the rears 18×9.  I didn't measure the offset until the wheels were refurbed.
Chris came by with his Mk4 GTI wanting some new wheels and we test fitted these wheels on for him. The fitment was promising with 20mm and 25mm adapters front and rear respectively, tucking the fronts and slightly poking the rears. I had a thought to switch the adapters around once they're done so the fitment was a bit more even (and more manageable on the rears without silly stretch). He was keen to go ahead, and we discussed what kinda finish he wanted the wheels to be while I started the refurb.
First things first, disassembly. Easy enough, same bolts as BBS RS albeit a little shorter. The centres were reverse-mounted with both the inner and lip sitting on top of it. The inner/lip spigot were a little tight so it made for some tough hammer hits before the centre budged, but it eventually worked loose. The corrosion over the years really helped seize it on. It reminded me of the Enkei K76, so I knew reassembly was gonna be tricky in regards to getting them back together without scratching the fresh paint.
These wheels lived a relatively hard life on whatever Porsche it was on. There were a few buckles here and there which I had Magman fix up for me without a problem. Bits of the centre had flaking paint and patches of bubbly corrosion under the paint, even though it looked like it had a respray or two before. I made the decision to get it sandblasted to get them down to the bare metal, especially since I didn't want any redundant layers of old paint making the outer spigot of the centre any bigger.
It definitely had had a pulling apart before, with inconsistent sealant beads on two of them. The job wasn't particularly neat either, and it made for a very difficult time when I started rubbing pack the mating surfaces.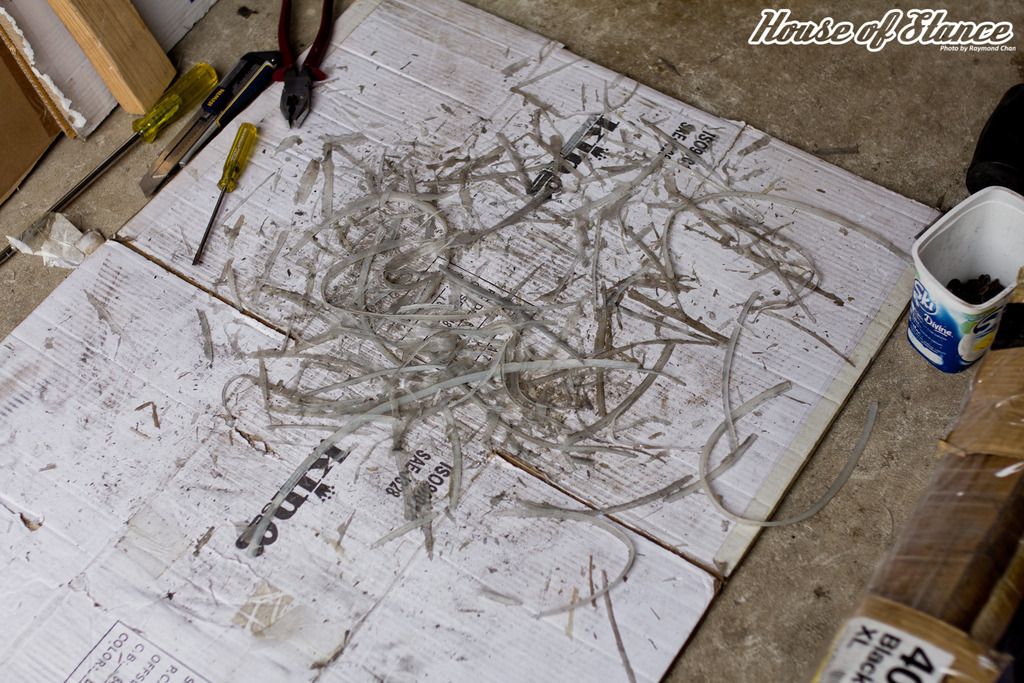 Lips were heavily pitted, so my original plan and suggestion to Chris was just to have them painted with the centre, perhaps an all-black or all-red wheel with chrome or gold bolts. Chris wanted to bite the bullet and have them polished up instead with a silver centre and chrome bolts, going back to a more classic, OEM feel. I personally didn't see much promise with polishing the lips, as you can see from the following photos…
But alas, we gave it a go.
My good mate and fellow VW enthusiast, Alex of Top Coat Electrostatic Painting, helped me out with painting the centres. I already had a set of Auto Strada Genova magnesium forged wheels and a mint set of 16″ BBS RS (article to come) sprayed in a metallic silver which really popped in the sun so we went ahead with that again. And did Alex come up with the goods, again!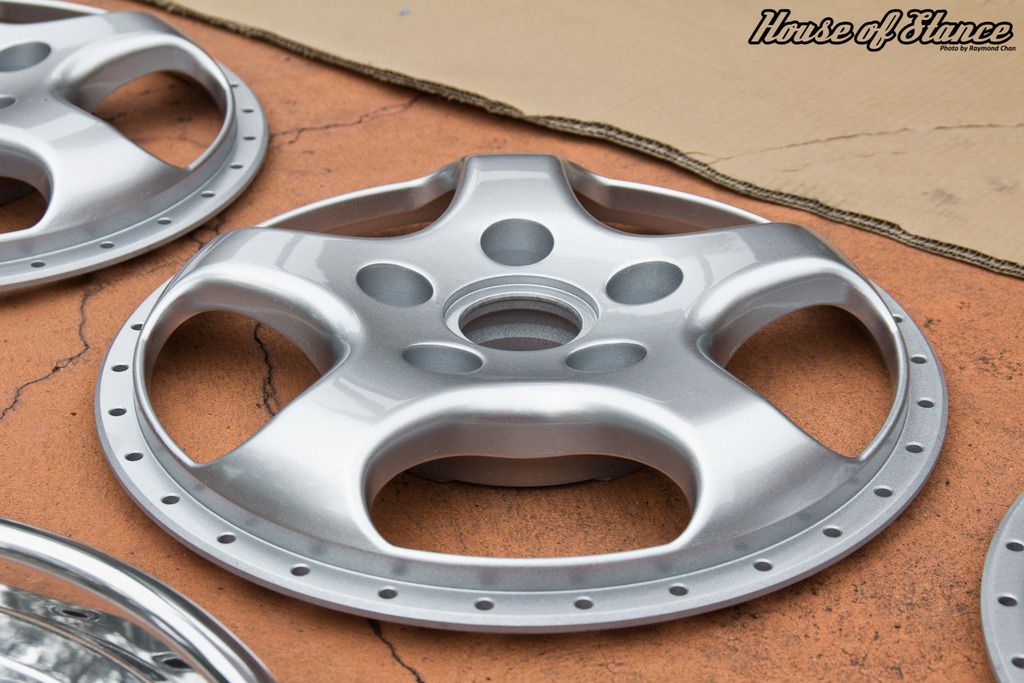 It's a hard silver to capture; there's a heavy amount of metallic in it, which does dull the silver under minimal light, but once the sun hits it, it just sparkles and reflects light as if it's polished aluminium.
The lips came out alright despite the heavy pitting. As expected, the pitting still shows but only if you get up really close. A few heavy scratches remain but overall, they turned up good.
And then definitely my favourite part of every wheel build, reassembly.
I decided to sandwich-mount the front centres since they had the spigot provision on the back of the wheel. This added an extra 1/4″ to the overall width, making the fronts 8.25″ wide. This also pushes the wheel out just slightly too when fitted to the car, which was what we wanted since the fronts tucked easily on the Mk4. The rears I kept reverse-mounted.
I bought two sets of centre caps for Chris; one set with black outlined Porsche logos, another set completely painted silver.
Torqued up and then sealed, and Chris picked them up a few days later once the sealant had cured.
I saw Chris post the above photo on Facebook yesterday and it just made me that little bit jealous; I really wished I spent the time to refurb these for myself for the 8L, but oh well. I'm glad they went back to an OEM finish. It's such a big contrast with how they were before, even though the finish would've been exactly the same when they were new. Sometimes a wheel doesn't need to have flashy colours and finishes, a classic silver or gold can work just as well!
Oh, I almost forgot, the final specs of the wheels were 18×8.25 ET60 fronts, 18×9 ET50 rears.