Written by Raymond Chan
Photography by Raymond Chan
This was another set of wheels I had before I bought my A3, but didn't rebuild them back up until the Halfway Hangs event was coming up in early 2014.   I have to apologise in advance though; unfortunately I didn't take as many photos in the build up process as my previous builds, and for what reason I'm not sure…  but there was a pic taken for the ESTBLSHD article that had the K76 centres in their original colour…
Not the best pic haha, but you can see the Rezax before it was rebuilt, my old Equip Voggards and an RS003 among others.
As with most of my previous builds, these wheels had their fair share of scrapes and knocks.  Gutter rash all around, one had a buckle that wasn't repaired very well previously (dimples and waves in the barrel), and the lips were quite corroded.  Fortunately all caps were available, though I'm not sure they were genuine; they were of a fibreglass construction while a mate's set (albeit in 17″) were made of metal.  The centrecap screws were missing but they were easy enough to source (countersunk M5 screws I think they were).
There were a few differences I came across with these wheels compared to the usual I try rebuilding.  These were 3-piece but the inners and lips were welded together.  I'm not sure if it they were sealed from the factory but mine came with a (peeling) sealant bead.  Makes sense to put a layer of sealant over the welds as there may be pinholes.  Also, these used M6 bolts; tried with M7 but they're just simply too big.  The flat lips made for easier polishing, but the front mounted centres meant it was a little harder to maintain the entire lip as inevitably, the edge where the centre almost meets the lip cannot be reached for polishing.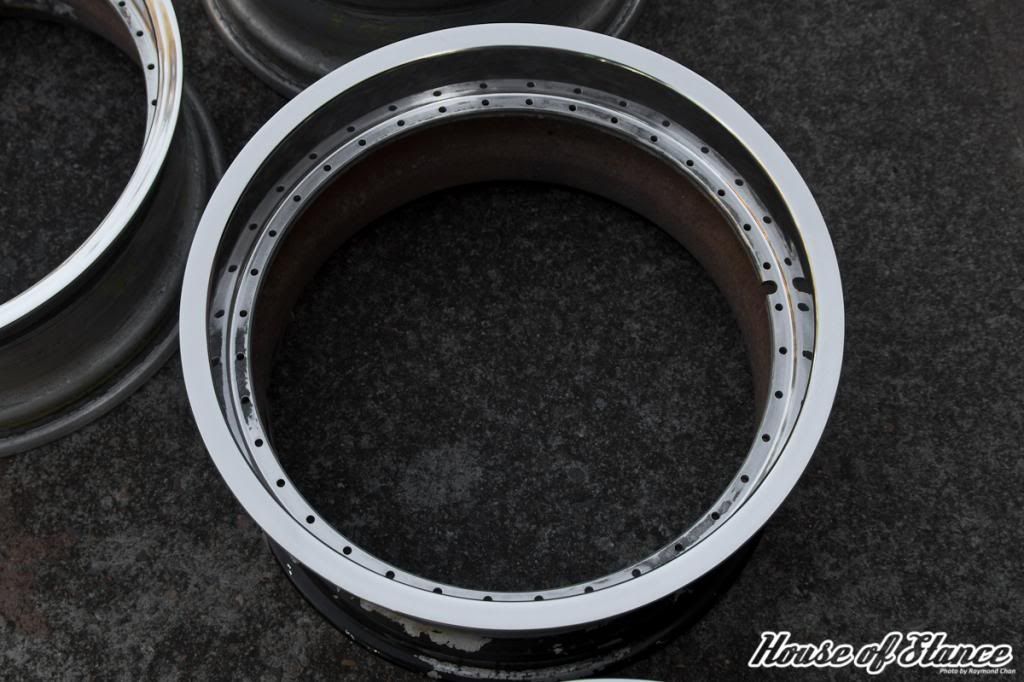 The flat lip also made for easier tyre mounting (stretching) as the bead of the tyre already forms tight-ish seal before it reaches the bead of the rim.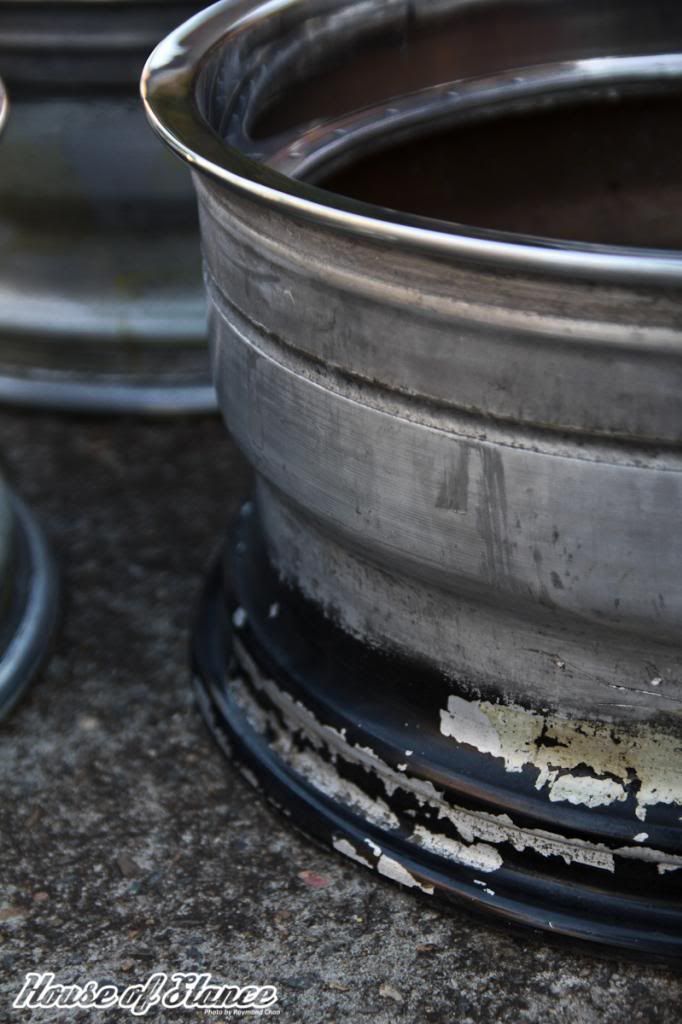 For the refurb, I had the centres painted by Greg @ Magman as I saw him spray a set of wheels in that Tiffany & Co hue. He still had the paint code with him so he had it mixed up pretty easily. Gold bolts were used and I ended up sourcing some gold countersunk bolts (only found some "off-the-shelf" from eBay UK) to match it all up. I was really happy with the end result; they're still ugly as fuck, but just not as ugly as when I got them!
Unfortunately it was a bit hard to capture the right colour on the camera, but this is probably the most accurate representation of the colour:
And in reality, a bit more greener than the following two:
Like the Rezax, I didn't keep these wheels for long; ended up going to Halfway Hangs and 100mm's Certified within the space of a month and then had them off and sold to Alex (of Top Coat).
Here are some pics from Halfway Hangs and 100mm, courtesy of their respective photographers.