Written by Raymond Chan
Photography by Justin Sung
8th of September saw our current fleet of members' cars exhibited at Showcased 2013, presented by the team at The-Lowdown. For many of us, it was THE show of the year; we wanted to showcase our new mods and even new cars that were purposely executed for Showcased 2013.  Most of us had attended last years event at Fox Studios and had such a great vibe from the show that we just couldn't miss this years.
The few weeks leading up to the event were far from smooth sailing.  Panels had to be sprayed and fitted, wheels had to be rebuilt and polished, parts had to be sourced and imported in, but by far the major source of stress stemmed from wrapping our cars, so much so that we've written a separate article completely dedicated to that task.  Two of our cars actually missed the Saturday bump-in; we were still working on cars until early Sunday morning.
That said, we managed to get everything sorted and by 10am on show day when the gates opened, we were all parked up, flagged up, and ready to show.
Here are our cars and the changes we've made for Showcased 2013.
Kennedy and his S14 is no stranger to the limelight.  First debuting with RAW Works-built BBS RS last year at our own meet collaborated with Street Cover, it had since stayed the same, with some gradual lowering over time.  Ken thought a fresh change was needed, so it was wrapped in a gloss beige/cream along with some in-your-face blast pipes peeping out from behind.
Joshua and his R32 started breaking major necks with his airride install, first debuting at the 100mm meet in Melbourne, slammed on Mercedes SL600 "Alphard" wheels.  Since then, he procured a set of RAW Works-built BBS RS (formerly on Areis mega-cambered airred FD Civic), fitted the very first set of fifteen52 bolt-on flares and replaced more textured trims with carbon fibre bits.  And if that wasn't enough, he went ahead and wrapped it in anodised blue!
Upon being part of House of Stance, Alan had an EK hatch which was slammed on some black-centred Work Meisters.  A while ago he ended up selling it and acquired a sedan instead.  Not one to keep a car stock as a rock, Alan went ahead to fit all-red tails, slam the sedan just as he did with his old hatch and fitted up the same Work Meisters.  But it still felt the same, so the wheels came off again, received a refurbish in white and he then wrapped the car in his favourite colour, mint green.  Not only that, he had custom Work stickers made up in the same mint green to replace those removed during the refurbish.
As probably predicted by most that know me, I had built new wheels for the show.  I had some Work Rezax I refurbed to an all-black finish with gold detailing and custom details.  More of this in a later RAW Works article!
Simpson had a Chargespeed front lip sprayed and installed onto the car in addition to his big drop on 16″ white steelies.  All-red overlays were installed too.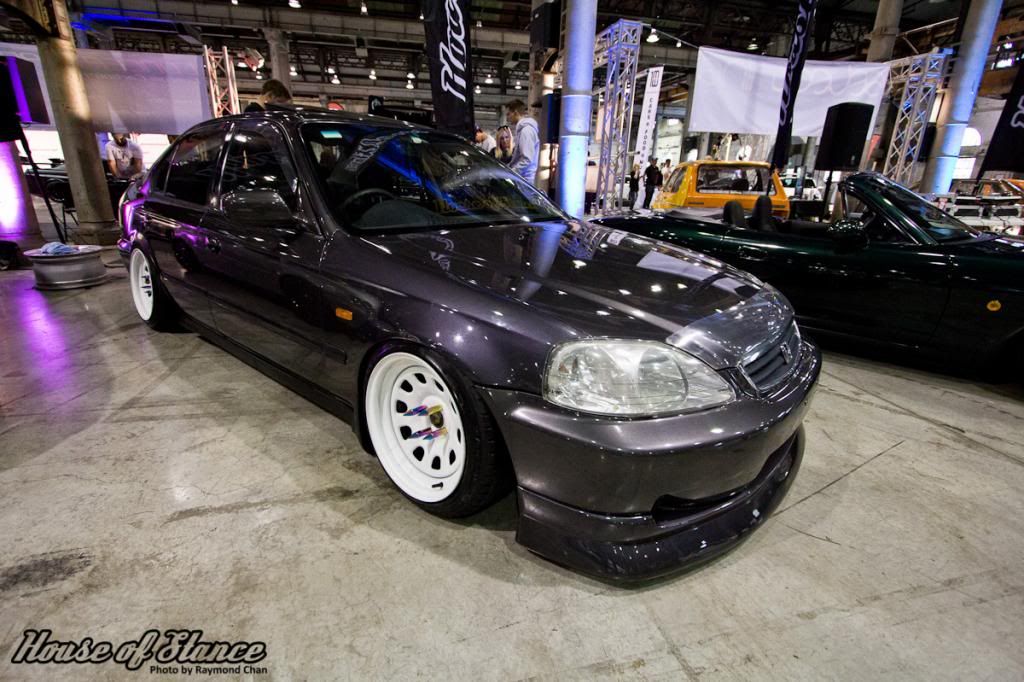 Tony, known for his super low purple EK, had sold up earlier in the year and picked up this series 1 NB MX5, stock besides a set of Bob Jane wheels.  He has since proceeded to slam it and fit on his infamous BBS RS wheels, as well as had a series 2 front end sprayed and fitted up by the boys at Concord Customs.  Tony's also fitted up some trick interior bits too, knowing that many will see the interior when he drops his top.
Mike's EK has been around for a long time, a clean, low daily.  Mike had sold his beloved widened steelies a while back and is currently in between wheels, so had these Sprint Hart CP-R wheels refurbished, clearing the gutter rash and repolishing the lip to a mirror finish at home.  A lot of aluminium particles were inhaled in the process!
Another 100mm-debuted car, Jeff and his WRX hatch made one last appearance before the wheels come off one last time.  He is aiming for a new setup soon so these Work Emotion XD9s are for sale!
New member Bhathiya wowed the crowds as usual with his absolutely slammed BUGGIN.  Definitely no stranger to the Sydney scene, B has had some pinstriping details added to parts of the car, done recently at the Fathers' Day Rat Rod Show at Taren Point, as well as relocated his number plate.  Fitting as it now scoops up bugs!
And finally, DJ Moto with his bagged Merc.  Still the same, sporting a huge tank with 1/2″ lines throughout, supported by a set of four compressors.
Relieved that we all made it to the show with cars completed, we were all tired but at least we had smiles on our faces.
DJ Moto and DJ Aloon did their thing on the decks!
Showcased pulled through with the promo girls.
As well as some good food, good photographers/videographers and good entertainment.
And what's a car show without cars?  Showcased had an amazing amount of quality vehicles; here were some of our favourites.
We love interstaters that make the effort to travel and take time off to check out shows of different states.  It's also great to put faces to usernames.  The Melbourne/Canberra/Adelaide crews (Stanceworks, Fitment First and 100mm amongst others) came up in their clean and unique rides.
Mike's E30 Touring is a car you don't see often, a slammed, wire-tucked old-school frothwagon.  The Compomotive Motorsport Tarmac wheels were an awesome touch too, and will soon be a rarity as it was recently announced that Compomotive had ceased trading.  Sad times indeed.
Sebastien and Sammy of Adelaide may have drove the furthest, coming from a 14-hour drive from Adelaide in Seb's 'bagged GC8.  Thanks goes to these two awesome guys for helping us out the night before the show with helping out finishing off our wrapping!
Beej's GTI all-rounder made the trip also.
Colin's B6 A4 was sitting perfectly on bronze TE37s.  Nothing short of amazing coming from Stanceworks.
Andrew's bug-eye was also another stand-out, with custom built (3-piece converted) BBS LMs in a rare genuine 5×100 configuration.
Ray of 100mm and Agentz (INDOMI) drove his clean E30 up as well, sitting on some beautifully restored Hartge wheels.  Period-correct styling is definitely something that isn't appreciated enough here.
And how can we forget George's EG twerk-magnet?  We all drove out through Sydney streets for a feed and no shit this thing was scraping left, right and centre.  Static and throwing sparks is definitely not for the faint-hearted, and there were numerous times when the guys had to jump out of their cars to help push George when he got stuck over speedbumps.  Sorry for the headache and the broken Beaks bar George!
There were many local cars that stunned some of us too.
Joshua Nham's EM1 on some RAW Works-rebuilt BBS RS came through with some serious suspension mods to get his Chargespeed lip on the ground.
A clean AE86 always catches our attention, but one with the Panda theme and an F20C?  Here's our money, take it.
Being huge fans of the USDM modifying scene, a shaved bay always capture our attention and intrigue.  This cream EG had a super clean, detailed engine bay; loved the spiked nut detailing too.
RadRollaz Mick had his F20C-powered KE30 on show.  It was a work of art, with nothing in or on the car left unturned.  It was refreshing to talk to an enthusiast who did almost all the work himself.  A genuinely nice guy too!
Personally, my car of the show was this Porsche 356.  I'm a huge fan of 356s and this ultra-black with red interior example ranks highly as one of the best-looking I've seen.  The Carrera badging had me intrigued as to what was under the boot lid but alas I didn't get a chance to meet the owner.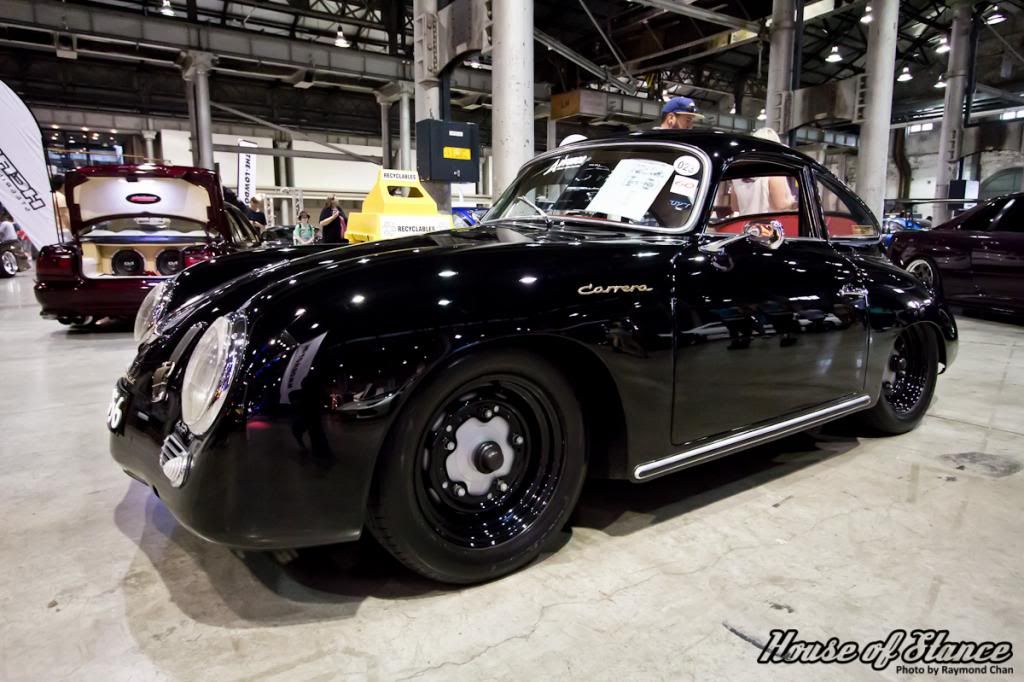 The R34 GT-R holds a special place in many JDM enthusiasts' hearts, and David's cover poster example may be the dream car of many.  With the recent addition of SSR Professor SP3 wheels, it looks as though it could take pride of place in many Japanese showrooms.
Stance Slutz Luke and his ever-evolving S2000 made an appearance too.  A good slam on some SSR Professor SP1 never fails.
Seeing the Rocket Bunny kit in the flesh makes you realise how wide it actually is…
The conclusion of the show began with the trophy awarding.  Now don't get us wrong, winning a trophy is definitely a good feeling but turning up to shows for us is largely for the community and being able to talk to and meet like-minded enthusiasts; after all, House of Stance was built upon this premise.  Hanging out with the interstaters is always a blast, catching up with friends in the scene renew our interest in each other, and meeting new people bring new insights.  Showcased gave us all an excuse to just hang and talk shit, give each other tips and opinions, which is what makes modifying our cars interesting for us.
We did walk away this year with two awards though, and for that we thank The-Lowdown, our friends and all our followers.
We all had slaved away, especially during the last week before Showcased to get all our cars ready for the event, so having two trophies by our side as we drove out of the venue made us realise that what we've done and achieved had been appreciated by our peers.  We can't wait for the next Showcased next year!